Unique Wedding Ceremony Ideas: 27 DIYs + Wedding Ceremony Songs and Outline
Bonus: Get our newsletter & special offers for free. We will not share or sell your email address. View our Privacy Policy

14 Hidden Wedding Costs No One Tells You About
By:
Jaclyn Holtzman, Editor, AllFreeDIYWeddings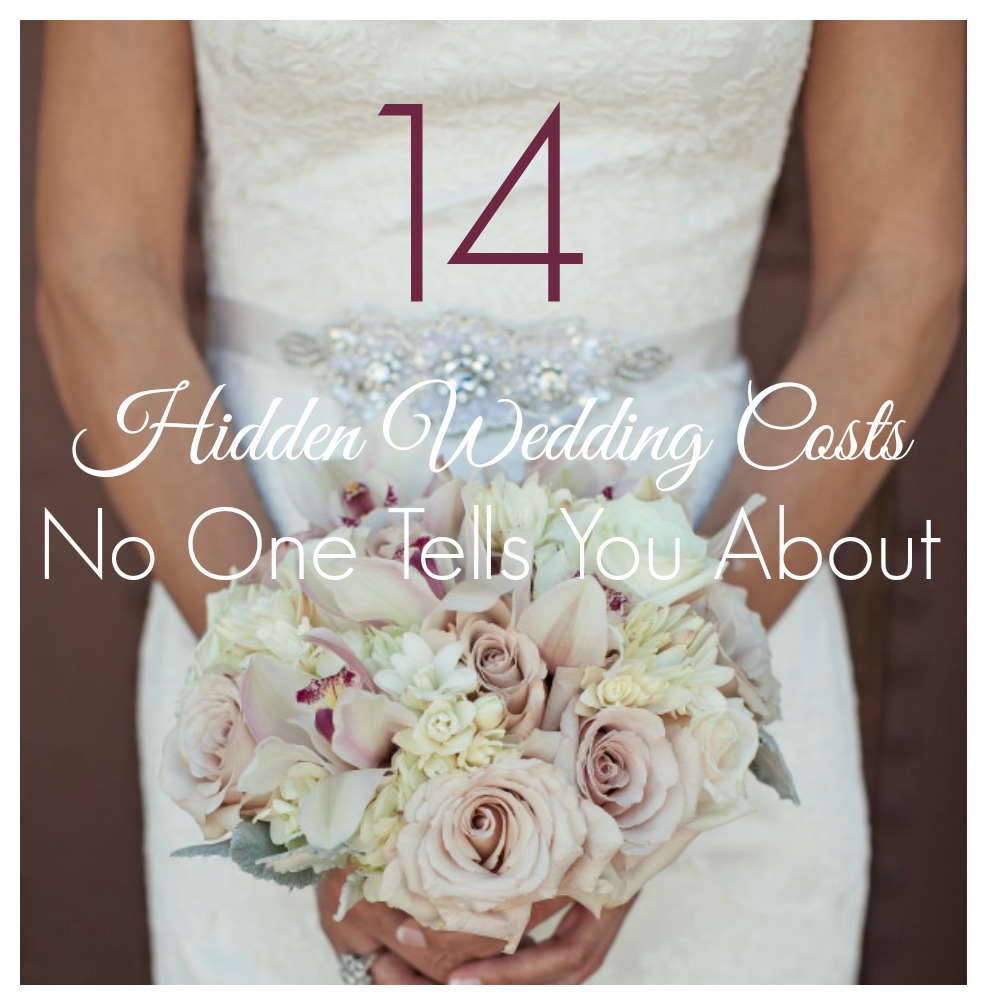 Wedding budgets are key to successfully planning a wedding. Everyone knows that. But what everyone doesn't know is that there are tons of hidden fees sprinkled throughout wedding planning that can put you way over budget if you're not careful. You must be aware of these hidden fees and factor them into your allotted budget for each category or you'll end up paying around 30% more than you intended. Ouch. Check out our Ultimate Wedding Budget Breakdown to first decide the exact amount you're allotting to each category, then, factor in these hidden fees to decide how much you actually have left to spend.

Tax varies from county to county, but you can expect to have a service charge of 20% or more on all food and beverage prices and get taxed 6% or more on food, beverages, and rental fees. Sometimes, you will even be taxed on the service charge, increasing costs more. Find out if your service charge is taxable at your venue, and make sure it is spelled out in the contract. Taxes and tips will be about 1/3 of your budgeted amount. That means that if you don't factor these in ahead of time, you can pay 1/3 more than you intended. Remember, you're going to be tipping just about everyone (the limo driver, the bartenders, etc!) and paying taxes on everything. If you wish to tip on top of the service charge, you must budget for that as well.

These are normally included in venue rental, but if you are having special chairs or linens brought in, this fee can be several hundred dollars. (e.g. $300 to bring in special chairs for 175 guests at an averagely priced venue.) Florists will charge delivery fees and set up fees (can be around 30%, called a service fee) and bakers may as well (around $50 for a cake delivery). There may be extra fees if your venue is not on the first floor and there is no elevator available.
To avoid fees from the florists, try creating and setting up your flower arrangements yourself. Here are some gorgeous options that look professional:

This can cost anywhere from $50-several thousand dollars depending on the upgrades. Sometimes it's a few extra speakers and other times it's multiple speakers, lights, etc. There may also be an extra charge for smaller equipment if you're using the DJ or band during the cocktail hour and/or ceremony. This will cost several hundred dollars up to several thousands.
To avoid this, bring a floorplan of your venue to your meeting. The entertainment company can then plan ahead for exactly what they need and can let you know if any extra equipment is necessary.

DJs charge about $100/ half hour of overtime (and that's on the low end). Venues charge thousands of dollars for overtime because this includes extending their workers' hours as well, not just use of the room.
Decide what time you want the party to be over, and get out of there. It's a lot less expensive to add an extra hour into the contract than to pay overtime charges the night of.
One way to do this is to put together a list of music you want to play that exactly matches the time the wedding reception ends. Check out some of these wedding song ideas for inspiration:

Another extra fee is giving guests the option of a plate. Some venues will charge around $2/plate for this and most likely will also charge each guest for the higher-priced plate.
If you're really worried about pleasing everyone's palettes but don't have it in the budget, consider a buffet.
If you've got the clear for bringing your own food (see below), check out some of these DIY food options:

Some venues will charge big bucks for using vendors other than who they offer. Decide if that cake is really worth it or try to get the approved baker to replicate it. Bringing in your own cake will not only result in an extra fee, but venues will charge around $3 for every slice of cake they cut from an unapproved vendor. This includes cakes you or a family member made.

If you know you are bringing in a cake, negotiate with the venue before signing a contract.
If you know you can bring a cake with no extra fees, save on cash by baking your own. Here are some ideas:

Keep this in mind for both your dress and bridesmaid dresses. You may want to pick a less expensive dress for your girls knowing that alterations will be necessary, and the same goes for your gown. Alterations can cost hundreds of dollars. Find out your store's alteration policy before buying the dress. If it seems outrageous, find the dress elsewhere.
Check out some of these DIY dress ideas to save on the cost of gowns:

While having an outdoor wedding may initially seem cheaper, keep in mind that you may have to get permits to hold your event. Add on rentals (for a tent, heater, generator, etc.) and things can start getting costly. Some indoor venues will also require a permit if you choose to use candles or other non-approved details. Inquire about these before signing a contract.
Take a look at some of these outdoor wedding ideas you can DIY to save on costs:

When budgeting your stationery, remember that you're not only paying for the invitations to be sent out, but you're also providing stamps for the RSVPs.
To keep costs down, avoid bulky or large invitations and use RSVP postcards rather than letters.
There are a ton of cheap, printable invitations and save-the-dates you can send, like the following:

Be sure to ask your venue what is included in the package. You may only be renting the room (sans chairs or tables) if you're not careful, and getting those in the space can be quite costly. Most chairs will run you about $5/chair, but some fancier seating options can run upwards of $30/chair. Double check that the venue offers table settings, too. These can cost up to $75 extra per person if rented.

Though they probably won't mention it, most hotels will charge a fee if you ask them to deliver welcome bags to out-of-town guests. Ask about this ahead of time, and if there's a fee, have a bridesmaid deliver them or hand them out at the rehearsal dinner.

Make sure you discuss parking options with your venue. Figure out whether it's cheaper to have valet or a shuttle.

A lot of brides opt to have a cocktail reception for about an hour before the actual party begins. Be sure these prices are included in all of your contracts, catering, venue, entertainment, rentals, etc.
If prices aren't included, but you're allowed to bring your own cocktails (see below), check out some of these DIY options:
If you bring your own alcohol to avoid the venue's costs, you may still rack up a similarly priced bill. You will be charged corkage fees, set-up fees, and maybe even glass rental fees. As always, everything completely depends on state, venue, company etc. Some will include all of this in the contract, others won't. Overall, just be aware. If you're trying to cut corners and avoid costs, chances are you'll be charged for it if it's not spelled out in the contract.
Photograph by Frenzel Studios
Free projects, giveaways, exclusive partner offers, and more straight to your inbox!
Your Recently Viewed Projects
Images from other crafters

Something worth saving?
SAVE all of your favorite ideas
ADD personal notes
QUICKLY reference your ideas