The Ultimate Wedding Guide: Wedding Planning Timeline, Wedding Etiquette and Advice, Maid of Honor Duties, and More
By:
Jaclyn Holtzman, Editor, AllFreeDIYWeddings.com
The Ultimate Wedding Guide: Wedding Planning Timeline, Wedding Etiquette and Advice, Maid of Honor Duties, and More Free eBook
Streamline the wedding planning process with these free wedding printables and pieces of wedding advice.
From the "Yes!" to the "I do," this ultimate wedding guide has you covered. Wedding planning should not be stressful, and with this free eBook by your side, it won't be. These 40+ pages of wisdom take you step-by-step through wedding planning, so that you're never alone. Included are wedding budget breakdown plans, printable Maid of Honor duties lists, tips on using social media in a positive way, and more. All of your questions will be fully answered in the pages of this ultimate collection. For a stand-out wedding that pleases guests and the happy couple alike, follow this guide to success. Not just for the bride, this handbook helps guests and the wedding party, too.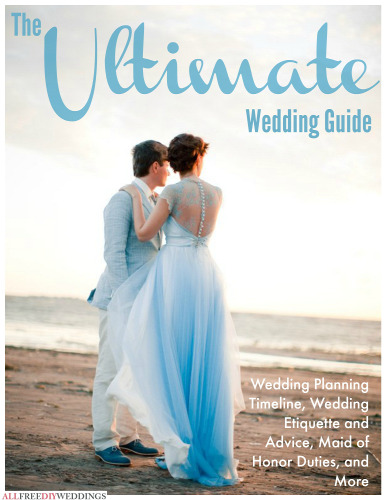 Download your free copy of The Ultimate Wedding Guide today!
The Ultimate Wedding Guide: Wedding Planning Timeline, Wedding Etiquette and Advice, Maid of Honor Duties, and More
Table of Contents
Note from the Editors
Dear Brides to Be,
AllFreeDIYWeddings is ready to revolutionize the wedding planning industry by transforming it into a stress-free, fun, positive experience. Are we recommending you hire a wedding planner? Only if you're rolling in the dough. Contrary to popular belief, there is a way to make the process enjoyable (dare I say it?) easy without paying the big bucks: The Ultimate Wedding Guide: Wedding Planning Timeline, Wedding Etiquette and Advice, Maid of Honor Duties, and More. This comprehensive guide to breathing easy will take you step by step through the wedding planning process in an easy-to-follow way.
To make your life even easier, this entire collection is printable for easy access and convenience. Thanks to its price tag (free, of course), you can print copies for every member of your wedding party without worrying about putting a dent in your budget. This book is especially useful for Maids of Honor as it clearly outlines Maid of Honor duties, gives amazing tips for Maid of Honor speeches, and gives in-depth advice for being the ideal Maid of Honor, so you can breathe knowing that your BFF has got it covered.
The top two biggest concerns brides have are amply covered in this book: budget and timeline. Within these magical pages, you'll find a printable wedding planning timeline to keep yourself on track and a printable wedding budget breakdown so that you keep your spending under control. If you start with these guides on your side, you're guaranteed smooth sailing throughout your wedding planning.
From wedding etiquette for the happy couple to wedding etiquette for guests, wedding advice that will save you from embarrassment to wedding tips that will ensure a stand-out wedding, this free wedding eBook will be your best friend for the 12 months until you say, "I do."

Perhaps the best part of the entire deal is that if you have any questions whatsoever, AllFreeDIYWedding's editors are always available to answer questions. Contact us on Facebook, Twitter, Pinterest, or Google+, email us, or leave a comment on the site, and we'll get back to you within one business day. Think of us as your free wedding planners; can't beat that!
To Happily Ever After,
The Editors of AllFreeDIYWeddings.com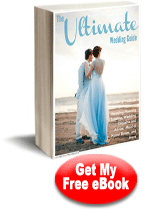 Download your free copy of The Ultimate Wedding Guide today!
What's Inside this Free eBook
Wedding Planning Timeline
Stay on track throughout the wedding planning process with a free printable wedding planning timeline. This easy-to-follow guide breaks down the important tasks into groups, making the entire process more manageable. Don't let this free wedding printable leave your side, and you'll be breathing easy all the way to "I do."
Wedding Planning Advice

Positive (and secret!) Ways to Use Social Media to Plan Your Wedding (pg. 10) Popular wedding blogger Jen Carreiro from Something Turquoise introduces you to little-known ways to use the most well-known social media platforms.
5 Things that MUST Be Photographed on Your Wedding Day (pg. 14) Forget giving your photographer a list of 50 pictures he just has to take, and stick to these five essentials that you don't want to miss. Chris Humphrey Photographer gives you the inside scoop to ensure you're thrilled with what the photographer captured.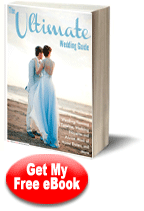 Download your free copy of The Ultimate Wedding Guide today!
Wedding Budget Breakdown Charts
Wedding Budget Breakdown (pg. 20) Stop tensing up after every wedding purchase just hoping that you're not putting yourself over budget. Instead, have a very specific plan to help keep you calm and organized. This breakdown will keep wedding planning stress free. Plus, it's printable, making it even more convenient.
Food Budget Breakdown (pg. 23) The largest portion of your budget goes towards your reception, which of course means food. Learn how to break down the food budget even further so that you're not guessing. This specific food budget breakdown will keep you in check and guarantee that you won't get duped by your caterer.
Maid of Honor Duties
Printable Maid of Honor Duties Checklist (pg. 26) Breathe easy knowing that your MOH has everything under in control. You won't have to check in constantly wondering if she knows what she's doing if you give her this list from the get go. It'll make her life easier, too.
8 Secrets for Being a Sane Maid of Honor (pg. 28) Something Turquoise's Jen Carreiro tells a hilarious (and true!) tale of Maid of Honor hell, but more importantly, she explains how to handle situations MOHs will inevitably encounter. If you have a strategy in place just in case any nightmares occur, you're much more likely to handle it well.
Wedding Etiquette for Hosts
How to Address Wedding Invitations (pg. 30) Avoid any angry phone calls or gossip by addressing all invitations correctly. This free wedding printable will make your life a million times easier, replacing hundreds of internet searches and hours of lost time.
How to Make a Wedding Seating Chart (pg. 35) Prevent any blowups on the big day by making a wedding seating chart properly. Learn who to put wear and how to make everyone happy.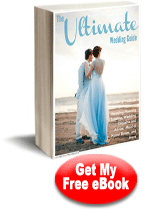 Download your free copy of The Ultimate Wedding Guide today!
Wedding Etiquette for Guests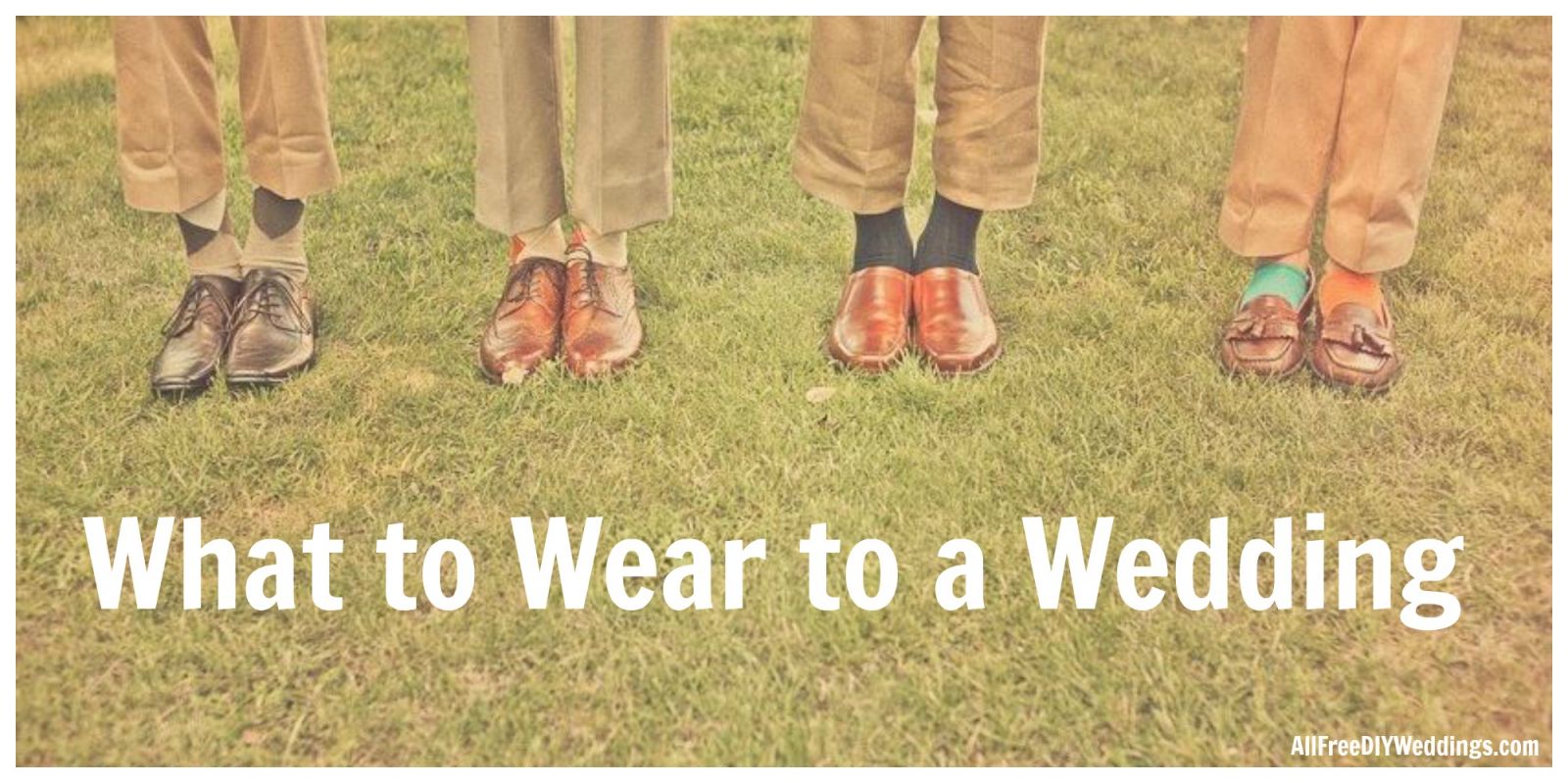 What to Wear to a Wedding (pg. 37) This amazing wedding planning article breaks down all the levels of formality and describes what is appropriate to wear. You should always walk into a wedding feeling confident rather than nervous that you'll be over or underdressed.
Gift-Giving Etiquette (pg. 39) It can be truly embarrassing to give a gift that is clearly inappropriately inexpensive or expensive. Learn the right amount to spend on a wedding gift as well as what to buy the happy couple.
...and more!
Need Help Downloading?
You can easily download and print out each book for on-hand reference while wedding planning.
For help downloading our eBooks, check out the FAQ here: How to Download our eBooks.
Don't Miss our other Free eBooks!
Be sure to check out our entire collection of eBooks, and keep checking back as there will be more eBooks added soon!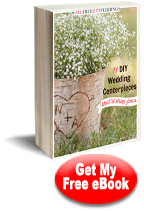 Sign Up for our Newsletter
Not only can you download a free copy of The Ultimate Wedding Guide, but you can also subscribe to The Wedding Planner newsletter to become a part of a fantastic DIY wedding community. In subscribing to the newsletter you will receive:
Weekly emails with free wedding crafts, tips, collection pages, and more.
New FREE projects made available to you throughout the year.
Access to our full site of paper crafts and tutorials for you to enjoy.
The opportunity to share ideas and help others in the paper crafting community.
This eBook, The Ultimate Wedding Guide, is stuffed with free wedding printables and printable wedding advice articles to help your wedding planning process go smoothly. Featuring tips and tricks from your favorite wedding bloggers, this free eBook will be your best friend throughout the wedding planning process. The Maid of Honor duties checklist will make you feel confident that her responsibilities are covered, and the printable timeline will ensure you that you're right on track. Breathe, smile, and have fun planning!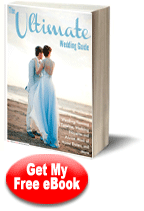 Download your free copy of The Ultimate Wedding Guide today!
Free projects, giveaways, exclusive partner offers, and more straight to your inbox!
Tags / Related Topics
Your Recently Viewed Projects
Images from other crafters

Something worth saving?
SAVE all of your favorite ideas
ADD personal notes
QUICKLY reference your ideas