The Ultimate Wedding Guide: Wedding Planning Timeline, Wedding Etiquette and Advice, Maid of Honor Duties, and More
Bonus: Get our newsletter & special offers for free. We will not share or sell your email address. View our Privacy Policy

Maid of Honor Speeches: Examples and Tips for Success
Learn how to write a maid of honor speech with these helpful tips and tricks.
By: Jaclyn Holtzman, Editor, AllFreeDIYWeddings.com

Updated April 24, 2017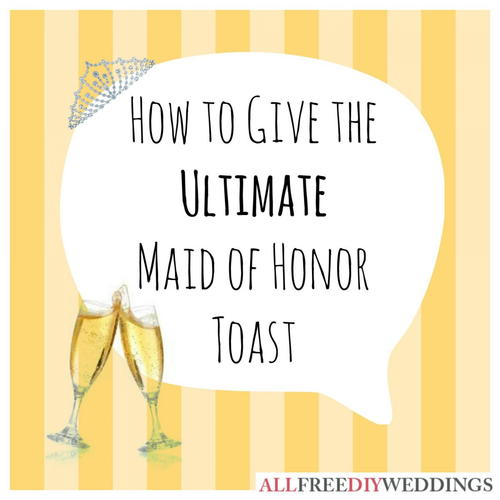 Maid of honor speeches can seem intimidating, but they don't have to be. After all, you're speaking on a subject you know well - your best friend! When planning your speech, keep in mind the special position you hold as maid of honor. The bride-to-be has chosen you to stand by her side during this special time in her life and perform a variety of unique maid of honor duties, so you should embrace the moment and speak from the heart.
 
Although practice makes perfect, there's no need to feel intense pressure to deliver a presidental-level speech. Keep things casual and concise and you will surely wow the ground with your heartfelt sentiments. Everyone is in a jubilant mood at weddings and they will be pleased to hear nice things about the bride and groom, so follow the examples and tips for success below and your maid of honor speech will go off without a hitch.

Don't forget to subscribe to the AllFreeDIYWeddings newsletter for even more wedding crafts, delivered straight to your inbox every week.
Maid of Honor Speeches: Tips for Success
1. Keep it Short. Your maid of honor speech should ideally be between two and three minutes. Practice beforehand and time yourself.

TIP: Do you have a tendency to stutter and hesitate when you're nervous? Allow yourself an extra 30 seconds while timing yourself. You won't be nervous practicing on your own, so you'll be speaking faster!
TIP: If you speak quickly when you're nervous, do the opposite! Subtract 30 seconds from your time while timing yourself.

2. Write out your speech. It's easy to lose track of time and difficult to maintain a storyline when you're nervous. When you give yourself bullet points or write out the maid of honor speech word for word, you'll only say what you intend.

3. Boldly demand attention. It can be difficult to get the room, rightfully full of bustling energy, to settle down for a speech. Confidently begin speaking. Any faltering or nervousness in your voice will go easily ignored.

TIP: Even if you're not a loud speaker, really belt out an "Excuse me, everyone!" or "Can I have everyone's attention please?" when you get up there. DO NOT CLINK A GLASS WITH YOUR FORK. That is the universal request for the bride and groom to kiss, and that will be distracting!

4. Introduce Yourself and Let Everyone Know Why They Should Listen Up. Do you know secrets they'd love to find out? Did you introduce the couple? Were you there when the bride said she found the man she was going to marry? Just like they taught you in school, start with an attention grabber. Let the guests know your relation to the couple, and then take it a step further to let them know that you're about to reveal some fun tales they don't know.

5. Tell a story (*that everyone will understand). Make sure the story is structured as such, with a beginning, middle, and end. It keeps listeners engaged and keeps you on track. Talk about something that most guests wouldn't know. Ideally, pick a story that involves the bride and groom. Perhaps how they met, or when the bride came home and gushed to you after meeting her prince charming. Don't overload the maid of honor speech with inside jokes; relay a funny or sentimental story that reflects the couple's relationship. If you choose a story just about the bride, explain how that translates into her happily ever after.

TIP: Remember that there are parents and children at the wedding! Don't choose a raunchy story.

6. DO NOT EMBARRASS THE BRIDE OR GROOM. Avoid talking about drunken outings, ex-flames, or rough patches in the relationship. It's a happy day; keep it that way.

7. End with a toast. That's what it is, after all! Admire the happy tears on the bride's face as you complete your perfect maid of honor speech.

TIP: Thank whoever paid for the wedding, and thank the bride and groom for having everyone! It's polite and customary.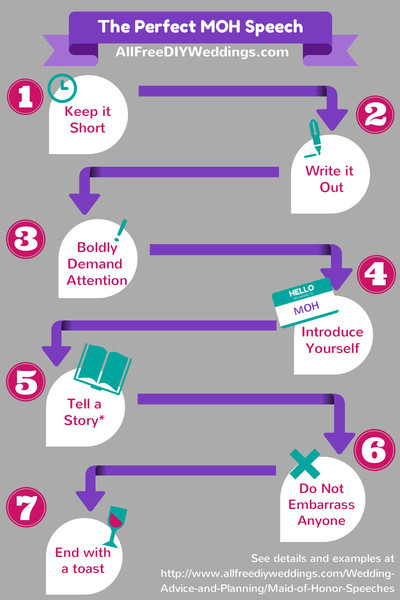 Maid of Honor Speech Examples
Knowing what to say during your maid of honor speech can be a daunting task if you don't have any examples to reference. Luckily, we've got you covered! Check out the example below for some inspiration and see if you can incorporate any of the elements into your own speech. Keep in mind the tips described above and you will do just fine.
 
"Hi everyone, I hope you're all having a fabulous time so far. For those of you that don't know me, my name is Jenny and I am Megan's maid of honor. It truly has been an honor to be a part of today's celebration. Thank you so much, Megan and Neil, for inviting us all to Florida to help you celebrate your marriage. And thank you to Mr. and Mrs. Trussle for hosting such a wonderful event.

Megan and I have been friends since high school, so I have been lucky enough to know both the bride and the groom since day one. I always kind of knew they would end up together; I think we all did.

Megan also always knew she wanted to get married in Longboat Key. I remember the first time I came here with the Trussle's in 2003, there was a wedding going on while we were here. Megan and I both watched in admiration, and that's when she told me, without an ounce of doubt, that she would be getting married here as well someday. I know Mrs. Tussle can attest to that, too; she's been hearing the same thing ever since Megan was a little girl.

So, we knew it was going to be Neil, and we knew it was going to be in Florida. But what none of us knew was when.

The day Neil proposed, Megan and Nathan were headed up to Megan's other "happy place," Madison, WI. They were headed to the annual farmer's market, and Megan kind of had a feeling he was going to pop the question at some point over the weekend. You can imagine my surprise when she called me with the big news on Friday afternoon—before they even reached Madison. As it turns out, Megan ran into a bit of car trouble on way up. Neil could tell the weekend wasn't exactly starting off on the best note. He knew Megan was upset, and if they weren't going to make it to Madison, the least he could do was make it up to her the best way he could— with a ring.

Needless to say, Megan and Neil got engaged on the side of the highway on the Illinois/Wisconsin border. One year later, here we are in Longboat Key, celebrating two high school sweethearts as they begin the next chapter of their lives together. May you both always find the good in every situation, continue to exude joy and spread your contagious laughter, and live happily ever after. Enjoy every moment tonight.

Cheers to Megan and Nathan as they continue travelling down the road to happiness."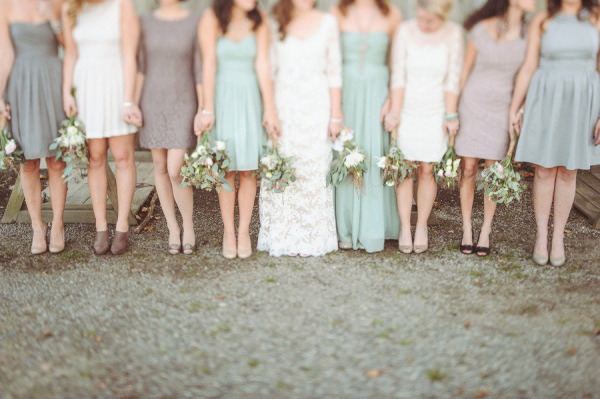 Gifts for the Bride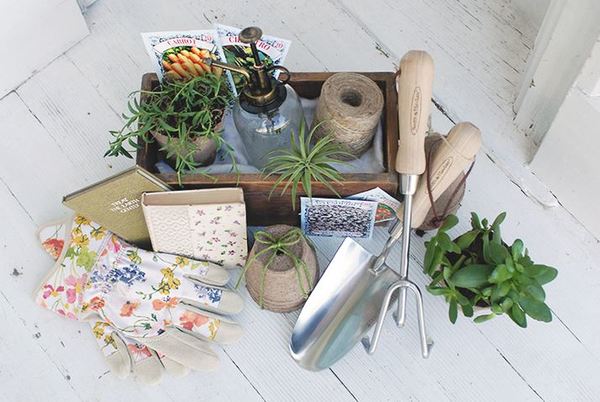 History of the Maid of Honor
The position of maid of honor is generally reserved for best friends, sisters, and close cousins in today's society. Her (or his) job is to orchestrate a bachelorette party, help with the bridal shower, and support the bride in every way possible through the wedding. It wasn't always this way though. There was a time when the bride didn't even pick her maid of honor or know her before meeting her as the maid of honor.

 During these times, brides would travel to the groom's hometown for the wedding and needed protection from evil spirits and jealous men. To help, the maid of honor would dress the same as the bride to confuse the spirits and the men; they wouldn't know which was the true bride. That was the idea anyway. The maid of honor would also help the bride dress and assist in preparing the bridal wreath, which was made of aromatic flowers and herbs to ward off evil spirits.
Who was your maid of honor? Let us know in the comments below!
Tags / Related Topics
Your Recently Viewed Projects
Images from other crafters

Love these projects? Get MORE delivered to your Inbox – FREE Click Here!