Modern and Traditional Anniversary Gifts by Year
By:
Jaclyn Holtzman, Editor, AllFreeDIYWeddings.com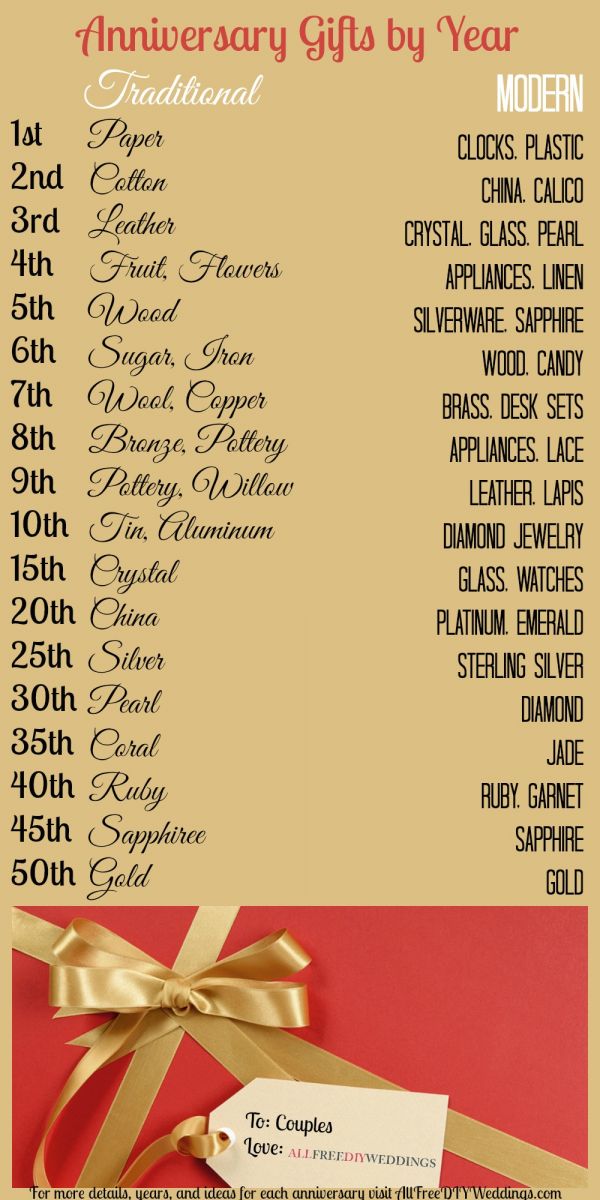 Congratulations! You've made it through one, ten, maybe even fifty years of marriage, and that is definitely cause for celebration. You've made happily ever after work for you, and regardless of the ups and downs and twists and turns that have brought you here, you're here. For decades, couples have used a traditional list of materials associated with each milestone to guide gift giving. A more modern one has come about to increase sales in certain industries and to fill in the blanks. Whichever list you follow, you partner will be thrilled that you put thought, effort, and love into celebrating yet another 365 days devoted to one another.
---

Are you looking for small gifts to give out at your wedding or next get-together? Check out our collection, 62 Unforgettable and Unexpected DIY Party Favors.
---
Whether you decide to purchase your gift or DIY it, it's the act of giving that shows you care. Remember that actions speak louder than words, and presents louder than actions. There's a bit of extra love put into a homemade gift, which makes DIY anniversary gifts for him and her a bit more special. If you feel as though handmaking a gift doesn't constitute spending enough, pair a purchased present with a complementary craft. For example, gifting the Basket of Firsts with a set of crystal wine glasses or an electronic wine opener (an appliance!) creates an incredibly thoughtful present that your significant other will treasure.

Gifts don't have to be tangible, either. Sometimes the best present can be spending the day together in a meaningful location. Recreate your first date, revisit the spot where you proposed, or go somewhere that "fits" the material for that year. The more creative you get, the more fun you'll have. Instead of giving China, go there! When the material is ivory, take a trip to the zoo instead of buying ivory. The options are endless when you let your imagination run wild, and with this list of wedding anniversary gifts by year, you have everything you need to start planning.

This list of wedding anniversary gifts by year will help get your wheels turning, but for more specific ideas for each year, click "More Anniversary Ideas."
---

Do you need the perfect floral centerpiece for your anniversary party? Check out of free eBook, 11 DIY Wedding Centerpieces That'll Drop Jaws for tons of ideas!
---
Anniversary

Traditional

Modern

Ideas

1st
Paper
Clocks/Plastic
Paper- Free Spirit dinner for two, Why I Love You Mason Jar Gift, DIY Instagram Photobook
Clocks-Steampunk Cuff Links
Plastic-Laptop

More First Anniversary Gift Ideas

2nd
Cotton
China
Cotton- You & Me DIY Pillows
China- A monogrammed dish

3rd
Leather
Crystal/Glass
Leather-Clutch Purse, iPhone Case, Leather Wallet
Crystal-Decanter
Glass-His and Hers Champagne Flutes, Homemade Etched Wine Glasses

4th
Fruit, Flowers
Appliances
Fruit- Edible fruit bouquet, vineyard vacation, Basket of Firsts, Fruit Cake
Flowers-Flower-scented perfume, Rose gold watch, Steal My Heart DIY Wreath
Click Here for More Flower Crafts

5th
Wood
Silverware
Wood-A Carved Trunk, Firewood Carrier, Wooden Family Name Sign
Silverware-3-tiered Serving Tray, Silver cuff links

6th
Candy/ Iron
Wood/Candy/Amethyst
Candy-Scrumptious Chocolate Boxes, Personalized M&Ms, Mustache Pops, Chocolate Bouquet
Iron-Golf clubs, fondue set, grill, Metal Monogram Letter, Wine Box

7th
Wool/ Copper
Desk Sets
Wool-New York Knit Scarf, Wrapped In Love Blanket, Cashmere Sweater, Camper Cooking Set
Copper- Timeless Tie Clips, Jewelry Box, Copper Bucket for Bar
8th
Bronze/ Pottery
Linens/Lace
Bronze- Bed Frame, Door Knocker
Lace- Lace Vases, Special-Occasion Tablecloth, Crochet Lace Shawl
9th
Pottery/ Willow
Leather
Pottery- Cake Plate with His/Her Favorite Cake, A Pottery Class, Jewelry Dish
Willow- Picnic Basket (picnic included), Date under a willow tree, Sun Room Furniture
Leather-Laptop Case, Journal, Shoes
10th
Tin/Aluminum
Diamond Jewelry
Tin- Tea Tin with Breakfast in Bed, Martini Shakers, Poker Set, Tin Can Luminaries
Aluminum- Bicycle, iPod, Country Concert (complete with beer cans)
11th
Steel
Fashion/Turquoise Jewelry
Steel-Cookware, Fire Pit, Tool Belt, Car
Turquoise- Turquoise and Gold Earrings
12th
Silk/ Linen
Pearls

Silk- Lingerie, Silk Scarf, Robe
Linen- Summer Scarf, Tropical Trip to Wear Linen Clothes
Pearls- Necklace


13th
Lace
Textiles/Furs
Lace- Lingerie, Lace Parasol, Oatmeal Lace Cookies (bake together)
Furs- Faux Fur Caplet, Fur and Ribbon Scarf
14th
Ivory
Gold Jewelry/Opal
Ivory- Night out at a bar with dueling pianists, Trip to Africa, Floral arrangement featuring ivory flowers, VIP zoo passes, his/her favorite food supersized
15th
Crystal
Watches
Crystal- Chandelier, Monogrammed wine glasses, Dinner underneath a candelabra, Rose Gold Romance Necklace
Watches- WATCH his/her favorite movie privately in a movie theatre, complete with waiters and waitresses, Fancy workout watch with personal training lessons, Vintage Timepiece Cufflinks
16th
Silver Hollowware/Peridot
Peridot necklace and earrings, mongrammed or specially designed hollowware
17th
Furniture
Outdoor Rustic Tables
18th
Porcelain/Cat's Eye Jewelry
Clay Ring Plates (use porcelain clay)
19th
Bronze/Aquamarine
Gemstone Slice Coasters
20th
China
Platinum/Emerald
China- Trip to its namesake, Tiffany's China, Hand-Painted Plate, Vintage Cupcake Stand complete with favorite cupcakes
Platinum- Engraved rings, Cuff links
Emerald-Tickets to see The Wiz, Wicked, or The Wizard of Oz, Emerald dress with reservations at a fancy restaurant
21st
Brass/Nickel
Musical Instrument, Outing to see a jazz performance
22nd
Copper
Copper jewelry or cookware
23rd
Silver plate
Silver serving platter
24th
Musical instruments
Outing to the ballet, orchestrea, or favorite band/musician's show
25th
Silver
Sterling silver
Silver- Pocketwatch, Engraved pen with a handwritten love note, Monogrammed serving tray with breakfast in bed, Tickets to the country that won the most silver medals in the most recent Olympics
26th
Original pictures
Instagram Photobook
27th
Sculpture
Take an art class together, go sculpture-shopping for your home, buy a beautiful outdoor sculpture for your lawn
28th
Orchids
Special deliver the orchids to her office or workplace
29th
New furniture
Go furniture shopping together or handcraft a special table or chair
30th
Pearl
Diamond
Pearl- Trip to Hawaii, Pearl Earrings, Pretty Pearl Headpiece complete with a vow renewal ceremony, Watch with mother of pearl face
Diamond- Signed baseball bat, Season tickets to his favorite baseball team, her engagement ring reset, a trip to New Orleans complete with Diamond Beignets
31st
Time Pieces
His/Hers wrist watches, a special monogrammed wall clock
32nd
Conveyances (e.g., automobiles, bicycles etc)
Ride a tandem bicycle together, go dirt-biking for a cool adventure, take a vacation and go jetskiing
33rd
Amethyst
Amethyst rings, necklaces, or earrings
34th
Opal
Opal cufflinks and jewelry
35th
Coral
Jade
Coral- Trip to Australia to see The Great Barrier Reef, Fancy seafood dinner, Homecooked, candlight dinner with Coral Candlesticks, Chess set made of coral fossil stone
36th
Bone china
An antiqued set of bone china dishes
37th
Alabaster
An abalaster statuette or brooch
38th
Beryl/Tourmaline
Jewelry or Cufflinks
39th
Lace
Wedding dress restoration, antiqued lace items
40th
Ruby
Ruby/Garnet
Ruby- Trip to DC with a stop at the Smithsonian to see Dorothy's slippers, Picnic complete with ruby red wine, Personalized wine box
41st
Land
Buy a cottage or a timeshare together for future vacations
42nd
Improved real estate
Renovate one room to reflect each of your dream home improvement ideas
43rd
Travel
Take a trip to one place you have both always wanted to go, take photos and create a photo book.
44th
Groceries
Go apple, strawberry, or fruit picking together. Bake or make dinner with whatever you pick.
45th
Sapphire
Sapphire
Sapphire- Attend a concert at The House of Blues, buy his/her favorite blues record and a record player, Sapphire tie tack, jewlery
46th
Original poetry
Re-write your vows and read the new ones to each other.
47th
Books
Give each other a photo book with your favorite photos through the years in them.
48th
Optical goods (e.g. telescope, sunglasses, etc.)
Go stargazing at your planetarium, such as the Adler Planetarium in Chicago.
49th
Luxuries, any kind
Spa day, vacation, giftcards.
50th
Gold
Gold
Gold jewelry and cufflinks
55th
Emerald
Emerald/Turquoise
Emerald-Tickets to see The Wiz, Wicked, or The Wizard of Oz, Emerald earrings with reservations at a fancy restaurant
60th
Diamond
Gold/Diamond
Diamond- Signed baseball bat, Season tickets to his favorite baseball team, her engagement ring reset, a trip to New Orleans complete with Diamond Beignets
75th
Diamond
Diamondlike Stones/Gold
Jewelry
80th
Diamond/Pearl
Jewelry
85th
Diamond/Sapphire
Jewelry
90th
Diamond,/Emerald
Jewelry
95th
Diamond/Ruby
Jewelry
100th
10 Carat Diamond
Jewelry
Free projects, giveaways, exclusive partner offers, and more straight to your inbox!
Tags / Related Topics
Your Recently Viewed Projects
Images from other crafters

Something worth saving?
SAVE all of your favorite ideas
ADD personal notes
QUICKLY reference your ideas